Discover more from MCJ Collective Newsletter
A weekly deep dive into topics relevant to climate solutions for and by the climate community, from MCJ Collective.
Over 29,000 subscribers
🎨 A Year of Climate Art with Nicole Kelner
A year ago I quit my full-time climate job to make art about climate change. As MCJ's first Artist-in-Residence, I embarked on a rollercoaster of a year. The idea of becoming an artist was something the 8-year-old version of myself would have cheered on, but the 28-year-old version was shocked by. 
During this year with MCJ I hosted monthly climate art workshops. We focused on themes like food waste, ocean-based solutions, electrification, and transportation. It has been amazing to bring people together from all over the world to help them dream of the future they want to see and paint it into a tangible vision board. Making a virtual space for creativity and imagination within the climate conversation has been so powerful.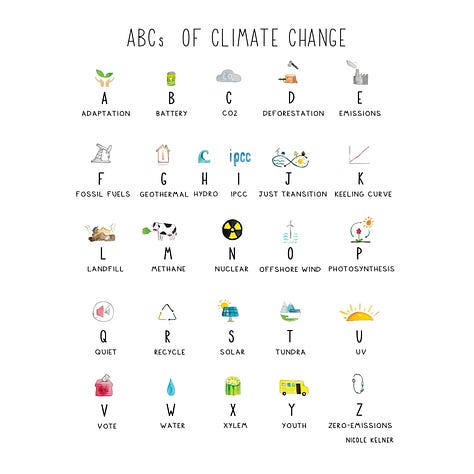 Seeing the #climate-art channel grow into a space where people share their own photographs of nature, illustrations, and whatever sparks their creativity has also been inspiring. Each month I also painted member spotlights, using art to visualize the climate journeys of some of the people that make MCJ so special. 
Here are some of the main takeaways I've learned through creating colorful climate art this year:
The simpler the better. People love it when I break down big ideas into simple metaphors. One of my most popular paintings illustrated how heat pumps work, and explained the technology in terms a toddler would understand.
Stay positive when possible. I love painting climate solutions because I find that these allow us to dream about the future we want to be in. My goal in creating art is to inspire climate action and I find this to be an effective way to encourage others to dream of a positive future.

Be consistent. I started my art journey by painting one watercolor a day for 100 days. I fumbled my way through my first 10 paintings but on day 10 I painted about kelp and carbon sequestration. My piece struck a chord on Twitter and inspired me to focus the rest of the 90 days on climate. The consistency of posting about climate art every day helped me grow a community on Twitter and quit my job to go all in on art. 
MCJ Collective has been such a formative part of my personal climate journey. The My Climate Journey podcast was my first source of climate education, the Slack channel was my first official climate community, and it also helped me find my first climate job. When I was making my transition to art full-time, the partners at MCJ and I co-created this artist-in-residency program, and I couldn't be happier with how the past year unfolded. I loved being able to support art within MCJ's climate community and have felt so supported by the MCJ team. 
I am so grateful to all the community members and the MCJ team for being there in all the phases of my climate journey and I am excited to continue creating new pathways together. 
While my residency ends this week, I will always be a part of the MCJ community! Feel free to reach out to me on Slack or email me at nicolegkelner@gmail.com.
---
🍿 The Lean Back
Enjoy a tasty treat from
Climate Town
.
---
🎙My Climate Journey Podcast
💸 Jason sat down with Grant Mulligan, a Vice President at Alvarium Tiedemann (AlTi), to discuss his firm's approach to impact investing, how they measure impact, and how they allocate capital across many different asset classes. Watch the episode on YouTube here.
🤝 Cody talked to Lucy Piper, Director at WorkforClimate, about four key areas of change that employees can impact, why they matter, and some of the steps that WorkForClimate recommends employees take to maximize their collective influence. Watch the episode on YouTube here.
💡 Trevor Best, CEO/Co-founder at Syzygy Plasmonics shared his climate journey and the fortuitous discovery that led him and his co-founder to commercialize their technology that energizes chemical reactions via light.
---
👩‍💻 Climate Jobs
For more open positions, check out the #j-climatejobs channel in MCJ Slack as well as our MCJ Job Board.
---
✨ Highlights
---
🗓 April & May Events
Click the event title for details & RSVP info. For more climate events, check out the #c-events channel in MCJ Slack.
🎨 Climate Art Workshop: Celebrate a year of colorful climate inspiration with Nicole Kelner. The theme is food waste! RSVP here. (April 25)
👭 Women in Climate Meetup: Monthly meetup for women who work in, or want to work in, climate. (April 26)
🍻 Climate and AI with MCJ Collective x pebblebed: Jason Jacobs will be in town! Join us for a night of informal networking. (April 26)
🇨🇦 Toronto Climate Series, Greenwash Detectives: Learn from local climate entrepreneurs during this special event sponsored by Financeit. (April 27)
🙋‍♀️ MCJ AMA: Maddie Hall (Living Carbon): Living Carbon is a public benefit company on a mission to fight climate change by genetically enhancing CO2 capture and storage in trees. After announcing their $21 million Series A round in January, Living Carbon also made NYT headlines for planting genetically modified trees for the first time in the US. Get your questions ready and RSVP here. (May 3)
💡 College to Climate Monthly: ​May's speaker is Caitlyn McCloskey, process engineer at Sublime Systems, a Boston-based startup that is commercializing a breakthrough process to make low-carbon cement. (May 3)
​📚 MCJ Book Club: Join us for a discussion of Regeneration by Paul Hawken. (May 3)
🤖 MCJ Boulder Area Climate Tech with Amp Robotics: ​​Come learn about how Amp Robotics is transforming the recycling industry with an on-site tour followed by a casual meetup at the nearby Redgarden Brewery. Check out the tour times here. (May 4)
🤝 DC Climate: May Meet Up: Whether you're a climate veteran or looking to transition, come chat about sustainability and climate tech. (May 4)
👋 Community Welcome Call: ​Connect, share and learn with the MCJ team and community members. (May 4)
---
MCJ Climate Voices is a free weekly email curating news, jobs, My Climate Journey podcast episodes, and other noteworthy happenings in the MCJ member community.
💭 If you have feedback or items you'd like to include, feel free to reach out.
🤝 If you'd like to become an MCJ community member, apply today.
💡 Have a climate-related event or content topic that you'd like to see in the MCJ newsletter? Email us at content@mcjcollective.com